San Antonio
English narration
---
San Antonio:
San Antonio, city in south-central Texas. The seat of Bexar County, the city is located on the San Antonio River and San Pedro Creek. San Antonio is noted for its mixture of Spanish, Mexican, and United States cultures. The city serves as a commercial and cultural center for the southwestern United States. San Antonio ranks as one of the hottest cities in the nation. San Antonio's area is about 850 sq km (about 330 sq mi).

Population:

The city's population grew from 786,023 in 1980 to 935,933 in 1990. In part, this recent growth reflects strong Hispanic immigration. According to the 1990 census, whites constitute 72.2 percent of San Antonio's residents; blacks, 7 percent; people of Asian background, 1.1 percent; and Native Americans, 0.4 percent. Hispanics, who may also be counted among other groups, make up 55.6 percent of the population.

Economy:

San Antonio, one of the largest cities in the United States, is a commercial, manufacturing, military, tourist, and financial center situated in a crop-farming and cattle- and sheep-raising region. Major manufactures include chemicals, processed food, building materials, aerospace equipment, clothing, and machinery. Five military installations within or just outside the city are important to its economy. They are Fort Sam Houston, headquarters of the United States Fifth Army and site of Brooke Army Medical Center; Randolph Air Force Base, the Air Force Records Center; Kelly Air Force Base, a major center for repairing aircraft; Brooks Air Force Base, site of the U.S. Aerospace Medical Center; and Lackland Air Force Base, a major training facility. San Antonio is served by several railroads, three interstate highways, and an international airport. Its main daily newspaper is the San Antonio Express-News.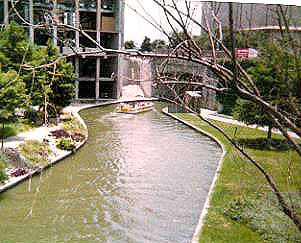 Points of Interest:
One of the popular areas in San Antonio is the Paséo del Rio, a walkway with shops and restaurants that borders the San Antonio River as it winds through the downtown district. Also of note are the Spanish Governor's Palace, which in 1772 became the headquarters of the Spanish government in Texas; La Villita, a complex of some two dozen restored buildings on the site of a Coahuiltecan village; San Fernando Cathedral (completed 1873); the King William Historic District, a residential area settled in the late 19th century by merchants from Germany; and the tall Tower of the Americas, built for HemisFair '68 , a world's fair held in San Antonio in 1968. Sea World of Texas and a musical theme park are also located here.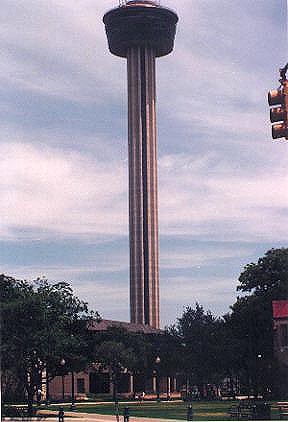 Among the many points of historical interest in San Antonio are five Franciscan missions. These are Mission San António de Valero (founded 1718), which after 1793 was converted into a fortress known as the Alamo (Spanish, "cottonwood tree"); Mission San José y San Miguel de Aguayo (1720); and missions Nuestra Señora de la Purisima Concepción, San Francisco de la Espada, and San Juan Capistrano, all founded in 1731.

Educational and Cultural Institutions:

Institutions of higher education in San Antonio include Trinity University (1869), the University of Texas at San Antonio (1969), the University of Texas Health Science Center at San Antonio (1976), Saint Mary's University of San Antonio (1852), Incarnate Word College (1881), Oblate School of Theology (1903), Our Lady of the Lake University of San Antonio (1911), and two junior colleges. Cultural facilities here include the Marion Koogler McNay Art Institute; the San Antonio Zoological Gardens, Witte Memorial Museum, and Chinese Sunken Garden, in Brackenridge Park; the Institute of Texan Cultures and Lone Star Hall of Texas History, in HemisFair Plaza; the San Antonio Museum of Art; the Hertzberg circus museum; and the San Antonio College Planetarium. The city of San Antonio supports a symphony orchestra and is the site of an annual opera festival.

History:

The site of San Antonio was long inhabited by Native Americans of the Coalhuiltec and Payaya tribes. The first permanent European settlement was established in 1718, when the mission of San António de Valero and the presidio (fortress) of San António de Béjar (Béxar) were built here by the Spanish. Four other missions were soon constructed nearby and a community, called San Fernando de Béxar, was laid out in 1731 by 15 immigrant families from the Canary Islands. San Antonio was incorporated as a city in 1809. The settlement developed as the major Spanish, and after 1821, Mexican, stronghold in Texas until the Texas Revolution. During that struggle for Texan independence, San Antonio was captured by Texans in December 1835 and remained under their control until March 6, 1836, when Mexican soldiers under the leadership of General Antonio López de Santa Anna stormed the Alamo and massacred 187 Texans, including the frontiersmen Davy Crockett and James Bowie. After the American Civil War (1861-1865) and the arrival of the railroad in 1877, San Antonio developed as a cattle market and distribution point for south-central Texas.
---
Created on April 10, 2000

Updated on January 10, 2005

This site has been visited



times
---
Return to The Peru-Texas Connection